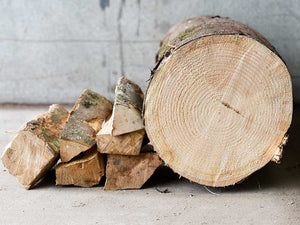 Kiln Dried Softwood Logs
Sale price Price £120.00 per m3 Regular price £90.00 Unit price / per
VAT included.
Delivery
calculated at checkout.
PWR Bioheat supply of kiln dried (forced) softwood logs available to buy online. There are many advantages to buying softwood as opposed to hardwood logs. Softwood is less expensive than hardwood and is ideal for quickly igniting a fire.
Detailed information about our softwood logs.
Size per unit
The standard size per unit is 1 m3 logs and BSL certified and non-BSL certified softwood logs are available.
Bag vs. pallet
We believe purchasing softwood logs on a per pallet basis offers better value for money than purchasing smaller bags of logs.
Ethically sourced wood
We work closely with the Scottish Woodlands organisation to bring you softwood logs. Scottish Woodlands upholds ethical production values. When they cut down trees, they replant them. That means that the wood we offer is a sustainable resource.
Information about our softwood logs
Our softwood logs typically consist of Douglas Fir and Spruce. That means that they are perfect for closed appliances.
There are many advantages to burning softwood. With softwood logs you can ignite flames fast and they are ideal for creating instant heat. This wood is also perfect for overnighting. Softwood logs split more easily than hardwood and they are less expensive to buy. 
Seasoning our softwood logs by force drying them
Our logs are forced dried on a drying floor using biomass boiler to achieve the idea moisture content for burning on your wood burning stove.
Measurements and softwood information
●Approximate Log Length: 25 cm
●Approximate Log Diameter: 80-150mm
●Moisture Content: sub 20%
●Ash Content: typically 1%
●Energy/ Calorific Value: 3600-4000 Kwh
Certified wood suppliers
You have the option of ordering BSL certified softwood logs.
BSL Authorised is required when claiming payments from Ofgem for usage of fuel used.
How long will delivery take?
We deliver to most locations within the UK mainland. We work with Pallet Line, a trusted delivery service, to deliver your wood. On average, you should allow around two to three days for delivery. Please be aware that sometimes these times may change.
You can collect from us free of charge otherwise all tlocal deliveries we deliver ourselves by truck without the pallet.

* We only deliver to the UK mainland; we don't deliver to any islands or Northern Ireland.
You can read the full delivery and shipping terms here.