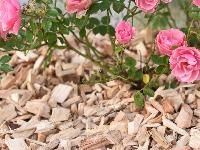 Decorative Wood Chip
Sale price Price £65.00 per m3 Regular price £55.00 Unit price / per
VAT included.
Delivery
calculated at checkout.
Decorative Wood Chip For Gardens and Play Areas
If you are looking for ways to enhance your garden, garden bed or garden paths then wood chips are ideal to make these areas look attractive, keep maintenance and rising weeds to a minimum.
Decorating your garden areas with wood chip is also a less expensive and viable alternative to wood bark; wood bark is more expensive as there is less bark on a tree than the core of the tree.
Wood chips are also more durable than bark; although bark does have a darker and possibly more attractive colour.
The other advantage of wood chip for decorating paths and playground areas is that the wood chip will last much longer; again giving you better value for your money.
Our wood chip is also ideally suited towards providing soft cushioning for children's play areas; around swings, roundabouts and other recreational areas.
Decorative Wood Chip Sold Unit size per order
We sell decorative wood chips per m3.
Bag vs. pallet
People have a tendency to purchase decorative wood chip from supermarkets, DIY centres, gardens centres and their wood chip is generally sold on a per bag basis. We believe ordering decorative wood chip on a per pallet basis can offer better value for money.
Ethically sourced wood chips
We are 100% clear about how we source and treat our decorative wood chips. We work with the Scottish Woodlands organisation to deliver wood chip to our customers. When they fell trees, they replant. That ensures that your wood chip does not have an adverse impact on the environment.  
Information about our decorative wood chips
All woodchip is produced on site at PWR Bioheat and can be ordered by householders and other organisations that need bulk supply with short delivery times. 
Measurements and information about our decorative wood chips
●Min Order Qty: 1
●Origin: Scottish Woodlands
●Sold per m3
How long will delivery take?
We deliver to most locations within the UK mainland. We work with Pallet Line, a trusted delivery service, to deliver your wood. On average, you should allow around two to three days for delivery. Please be aware that sometimes these times may change.
You can collect from us free of charge otherwise all the local deliveries we deliver ourselves by truck without the pallet.

* We only deliver to the UK mainland; we don't deliver to any islands or Northern Ireland.

You can read the full delivery and shipping terms here.